Digital Marketing Services
Bailey Creative is a digital marketing agency specializing in full-service, online branding, social media marketing, and SEO in Guelph, Kitchener, Waterloo, Cambridge and surrounding areas. Our team of experts has the experience and skillset to create digital marketing plans to help grow your online presence and brand.
Who are we?
Digital marketing, sometimes called internet marketing, includes a range of services that harness the power of the Internet to showcase and cultivate businesses. We know that for many business owners, running a business takes enough time as it is and doesn't leave much opportunity for digital marketing exploration— that's where we step in.
Bailey Creative is a Guelph, Waterloo, Cambridge, and Kitchener digital marketing agency that will help enhance and foster your company SEO, branding, and social media marketing efforts. We work with businesses of all sizes to build and nurture digital marketing strategies that work for their specific needs. Whether you are starting from scratch or want help improving your current online efforts, our team is here to help you meet your marketing goals.
Throughout the years, we've navigated countless brands through the switch to digital marketing. No matter how large or small your project is, our team of experts is here for you every step of the way. And whether your company needs SEO help, social media management or any other digital marketing services in the Guelph, Cambridge, Kitchener or Waterloo area, we're here to help your company! And even if you call another city home, that's ok too. We're always up for a road trip.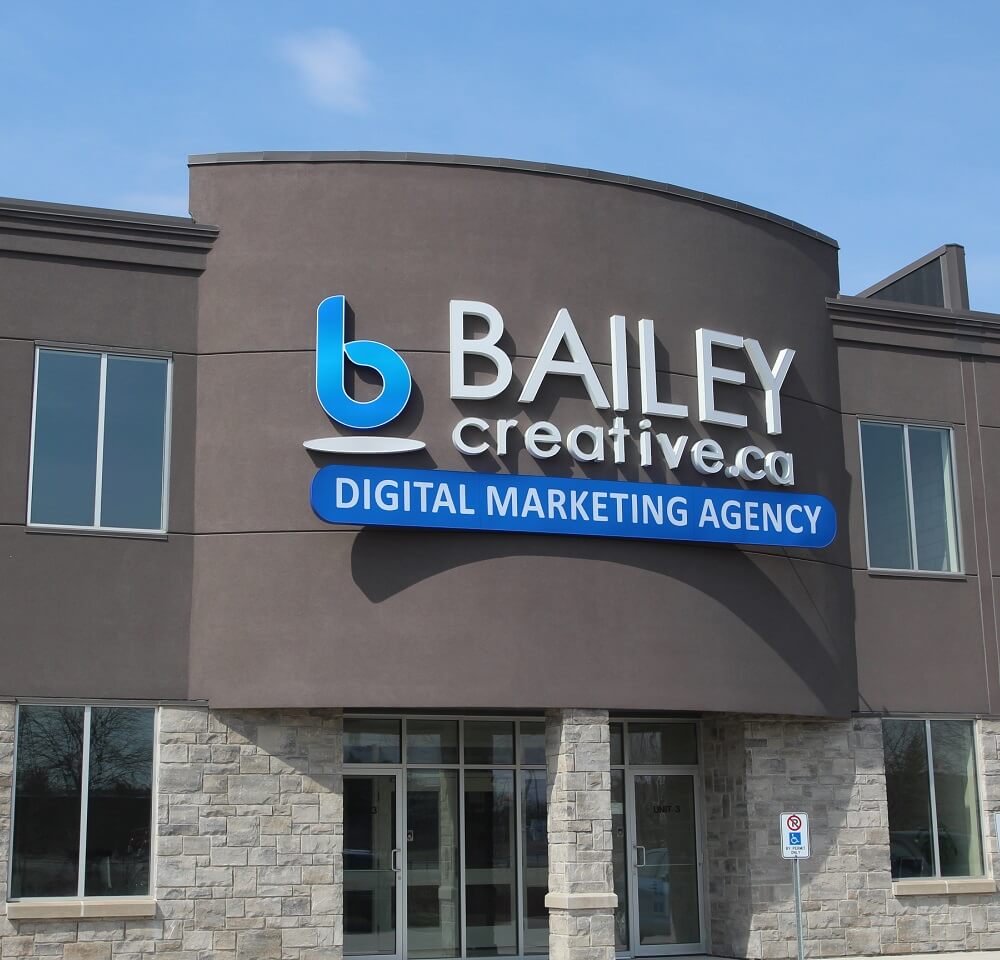 SERVICES
From search engine optimization to brand development, we offer everything you need to be successful both online and offline.
PORTFOLIO
Don't just take our word for it, check out our featured case studies to see real-world results that some of our clients experienced thanks to our digital marketing strategies.
CLIENTS
From local businesses to national corporations, we've helped brands of all sizes leverage the power of digital marketing and enhance their online presence.
How We Help
We pride ourselves in taking away all the stress of digital marketing – just leave it to us. We'll begin with a full assessment of your company's current SEO, social media marketing, and general online branding practices so we can put together a transparent and cohesive marketing plan. We will always communicate the expectations and strategies in a clear way so there is no room for confusion or doubt. We tailor all of our digital marketing services for each individual client, so our services fit your unique goals. No matter how large or small your projects are, we will be there for you every step of the way to ensure we exceed your expectations.
For your free marketing consultation today!