At Bailey Creative, we work to get our clients' websites ranking well on Google using smart SEO (Search Engine Optimization) practices. As the world's largest search engine, Google is the site people go to when finding places to eat. It's the site they go on to find product names. And oftentimes, it's the site people use when finding a business or service to meet their needs.
Google has (for the most part) replaced traditional marketing. You no longer need to have an ad listed in the yellow pages or in your local newspaper to have people respond. Nor do you have to be a door-to-door marketer to get the word out about your company or business.
All you need to do is get yourself (meaning your brand/business/service) and your website visible on search engines. And, you need to aim to get yourself as high atop the results as possible.
How Does Google Determine Search Result Rankings?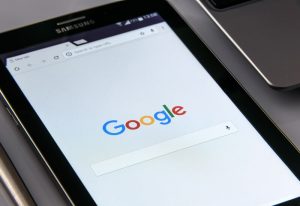 The first and maybe the most important part of this article, is to understand how Google determines search results. If you don't know this, you can't really figure out how to make your brand/business/service reach the top of the results.
Google uses an algorithm that determines what websites are the most useful to searchers. Unfortunately, there are over 200 "ingredients" that go into the algorithm to determine this. Each of these concern your overall SEO. For times sake, we're not going to go over each of them.
Instead, Bailey Creative has come up with 5 basic SEO tips that feed into the algorithm. These tips will improve your SEO and ultimately bring up your Google Search Ranking
1) Get Your Website Indexed
The most basic step to getting your website ranking in search engines like Google, is to allow for Google to index your website. Indexing your website is a good SEO practice that is simple to set up. All you need to do is to click on the option that allows for Google's robots to read through your website and pick through the content. From here, they can analyze your website and its content, and discover how useful it is for searchers. Sites like WordPress have an easy way to configure the robots. But if you are dealing with are unsure about the steps, it's always best to contact a web developer.
2) Use Strong Keywords and Create Original Content
This one may seem obvious, but if you want a website to rank for a certain keyword search, you need to use the keywords and phrases that will help it rank.
For example, if you're a bicycle sales company, but don't use the word "bicycle sales" anywhere on your website, you're not going to rank in Google. Someone else who does bicycle sales and actually uses the keywords, will take a higher spot in the rankings.
You also need to think about additional searches that are related to your targeted keyword. So if you're targeting "bicycle sales" as your keyword, you may also consider "bicycle repairs" or "bicycle brands" as other possible search terms that users may be looking for. Keep in mind, when you're using these keywords, not to overstuff them on your website. Overstuffing keywords left, right and centre means that the Google algorithm will notice the "spam" in your content and can flag your website for bad SEO practices.
3) If You're a Local Brand Business or Service, Target Your Area
If you're a local business offering a service, then it makes sense to target your local area with your keywords and your content. For example, if you are a dentist in "x" city, then you need to put in a phrase that matches your city and your service (e.g. "Made-up-ville Dentist"). Because your clients are most likely to come from your area, you need to market yourself heavily to clients in that area.
You should also consider ways to get your business discovered locally, like being featured in an online listing service, like Yelp. When people use sites like Yelp or the Online Yellow Pages, having your name appear for said service, will help boost your rankings in Google.
At Bailey Creative, we work largely on local SEO in Guelph, and SEO in Kitchener-Waterloo and Cambridge, using local citations and targeting keywords that make sense for the business and the client.
4) Pay Attention to the Details of On Page SEO
When going through your webpages, you'll want to make sure that the smaller details of text and imagery are contributing to your SEO and rankings. This means making sure your title tags, meta descriptions and header tags are descriptive of your business and your keywords, and not irrelevant page fillers.
If you add in images to website (which, you really should as a good practice of web design) make sure you are giving them alternative texts and naming the files with keywords that are relevant to the photo and to your business. And don't forget to put any relevant contact information and location information on your website pages.
If all of this seems a bit daunting to you, getting a web designer or a web developer to go through your website is a good idea.
5) Use Google's Tools: Google My Business
Fortunately, Google can make your business or service visible to Googlers thanks to the Google My Business function.
Think of Google My Business a listing of your brand/business/service in a large business directory—one that is run by Google. In Google My Business you have the opportunity to tell people about yourself, provide contact and location details, show off some high quality photos, offer a Call to Action, and give people the opportunity to provide reviews.
Using Google My Business usually gets your business seen on the right side of the search results page depending on the search request.
If you want to learn more about how Google My Business works, specifically with the reviews, check out our post that gives you the rundown of how SEO is affected by Google Reviews.
How Do I Get Started With Boosting My SEO and Overall Search Rankings?
When you want to boost your SEO and your Search Rankings, take a look at your current website and see what can be improved from first glance. Once you've highlighted the surface changes, then you can dive into the statistics and analytics of SEO and Search Rankings.
But, chances are, if you have a brand/business/service that you are working on, you don't really have the time to do all this yourself. That's where companies like Bailey Creative come in. Our team works to improve clients SEO in Guelph, Kitchener, Cambridge, Waterloo, and across Canada. Whether we are building local citations or creating new content, we work on getting your name atop the Google searches.
Keep in mind, boosting your SEO and driving up your search engine ranking is not a task that you only do once. It's something that needs to be worked on continuously to keep your brand/business/service relevant. That's why we take the time to do the research and work to get your name buzzing in search engines. For more information on our SEO practices, keyword discovery sessions and content work, please contact us today!